$719.99
ASUS GTX780TI-DC2OC-3GD5 Graphics Cards
Product Description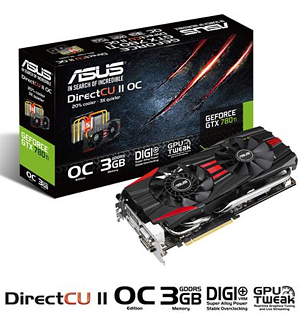 ASUS GeForce GTX 780 Ti DirectCU II – Delivering 6% Faster Game Performance than Reference Designs
GTX780TI-DC2OC-3GD5
DirectCU II Offers 20% cooler and 3X quieter performance
Exclusive CoolTech Fan Drives wider airflow to keep critical components cool
1020MHz boost clock for better performance and outstanding gaming experience
DIGI+ VRM with 10 Phase Super Alloy Power Delivers precise digital power for superior efficiency, reliability, and performance
GPU Tweak Helps you modify clock speeds, voltages, fan performance and more, all via an intuitive interface
6% Faster game performance than reference GeForce GTX 780 Ti in BattleField 4™
ASUS Exclusive Innovation
Game Faster. Quieter. Cooler.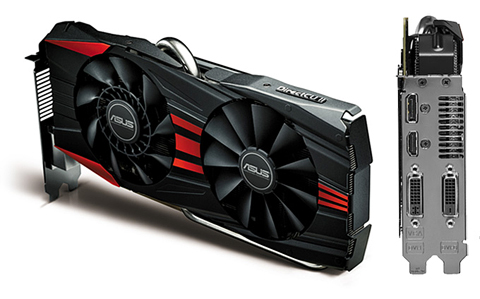 *For demonstration only
I/O Ports Highlights:
Native Dual-link DVI-I
Native Dual-link DVI-D
Native HDMI
Native DisplayPort
ASUS announces the GTX 780 Ti DirectCU II, a graphics card powered by the new GeForce® GTX 780 Ti graphics-processing unit (GPU) and fitted with exclusive DirectCU II technology for cooler, quieter and faster performance. The GeForce GTX 780 Ti GPU is powered by 25% more CUDA (Compute Unified Device Architecture) cores and benefits from a boosted clock speed of 1020MHz — both significant increases on its predecessor, enabling the ASUS GTX 780 Ti to deliver astonishing gaming performance. With exclusive ASUS DirectCU II on board, the GTX 780 Ti DirectCU II runs up to 20% cooler, three times (3X) quieter and 6% faster than reference cards.
6% Faster Game Performance
System Configuration
MB: Rampage IV Extreme
CPU: Intel Core i7
Memory: 16GB( DDR3)
OS: Windows 7 Ultimate 64 SP1

Ultimate Cooling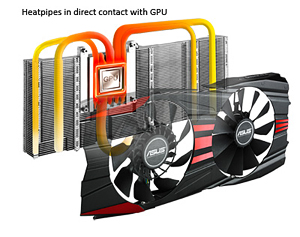 DirectCU II
20% Cooler and 3X* Quieter
For Ultimate cooling, ASUS thermal engineers developed the exclusive DirectCU thermal technology. Applying the exclusively designed heatpipes directly onto the GPU core for faster heat dissipation.
Exclusive DirectCU II thermal design includes a direct-GPU contact 10mm copper heatpipe and 220% larger dissipation area to boost heat removal efficiency. It performs 20% cooler and 3X quieter than reference designs.
*Equivalent to 14dB and performance varies depending on system configuration
CoolTech Fan
Proprietary CoolTech fan consists of a hybrid blade and bearing design, with inner radial blower and outer flower-type blades. These provide multi-directional airflow to accelerate heat removal and enable highly stable graphics performance.
Ultimate Stability

DIGI+ VRM with Super Alloy Power
30% Less Power Noise and 2.5X Greater Durability
Acclaimed DIGI+ VRM has been applied via a 10-phase power design that uses digital voltage regulators to minimize power noise by 30%, enhance power efficiency by 15%, widen voltage modulation tolerance, and improve overall stability and longevity by 2.5 times over reference.
POSCAPs to lower power noise, enhance overclocking, and improve stability far beyond standard analog designs. DIGI+ VRM with Super Alloy Power.
Ultimate Graphics Tuning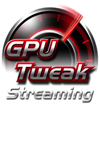 GPU Tweak
Real-Time Intuitive Graphics Tuning
Shows detailed specs and actual card status with GPU-Z
Monitoring widget provides real-time detailed multi-parameter info
Automatically checks and updates drivers and BIOS versions
Stream Online Instantly
GPU Tweak streaming tool lets you share on-screen action in real time – so others can watch live as games are played. It's even possible to add scrolling text, pictures, and webcam images to the streaming window.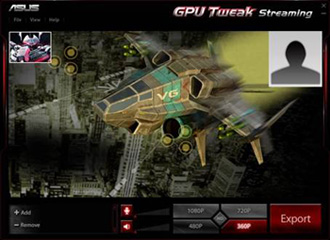 Color Match Kit
Customize Your Card
Red or gold – the choice is yours! ASUS includes easy-to-apply metallic stickers so you can choose the color to match your motherboard.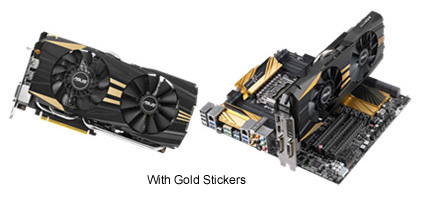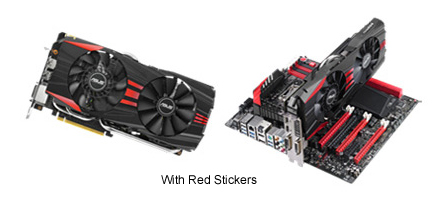 Graphics GPU Features

Powered by NVIDIA® GeForce® GTX 780 Ti

NVIDIA® Adaptive V-Sync
Get more than just faster frame rates. Get ultra-smooth gaming every time with NVIDIA® gaming innovation Adaptive Vertical Sync. This technology dynamically adjusts vsync to current frame rates for maximum playability.

SLI Support
Multi-GPU technology for extreme performance.

PCI Express 3.0
Delivers double the bandwidth per lane of PCIe 2.0 for faster GPU-CPU communication.

NVIDIA® GPU Boost 2.0
Technology for intelligent monitoring of clock speed, ensuring that the GPU runs at its peak and the game is at its highest frame rate possible. It offers new levels of customization, including GPU temperature target, overclocking, and unlocked voltage.

NVIDIA® PhysX™
Play games with advanced effects such as blazing explosions and lifelike characters with 10X faster switching between graphics and physics processing, enabling more complex effects to be rendered in real time.
NVIDIA® 3D Vision™
Transform hunreds of PC games into stereoscopic 3D and enjoy immersive full HD 3D gaming across three displays at an incredible 5760 x 1080 resolution.

Microsoft DirectX 11.2 API (Features Level 11_0)
Brings new levels of visual realism to gaming on the PC and get top-notch performance.