$176.69
ASUS R9270-DC2OC-2GD5 Radeon Graphics Cards
Product Description
R9270-DC2OC-2GD5
Perfect balance of 28nm power with cool and quiet performance
DirectCU II achieves 20% lower temperatures and six times greater airflow than reference design.
OC-selected 975MHz core, 50MHz higher than reference for smoother gaming.
Premium alloy in power delivery components defeat heat for cards that run 15% faster and last two and a half times longer than reference.
GPU Tweak helps you modify clock speeds, voltages, fan performance and more, all via an intuitive interface.

Deploy the Cool. Reign in Silence.
ASUS Exclusive Innovation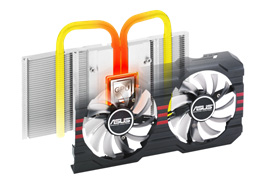 DirectCU II
20% cooler and three times quieter
Flattened copper heatpipes make direct contact with GPU surfaces so heat is dissipated more efficiently, delivering 20% cooler, three times quieter performance and six times greater airflow than reference.
*Equivalent to 14dB and performance varies depending on system configuration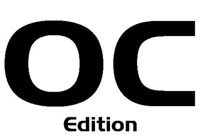 975MHz Boost Clock
975MHz Boost Clock for better performance and outstanding gaming experience.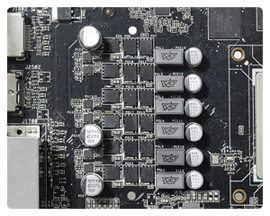 Super Alloy Power
Enhanced durability and cooling
Exclusively-formulated alloy components boost performance by reducing power loss, enhancing durability, and achieving cooler operation. Choke concrete cores eliminate buzzing sound under full load while capacitors assure a 50,000-hour lifespan: equivalent to two and a half times longer than traditional capacitors.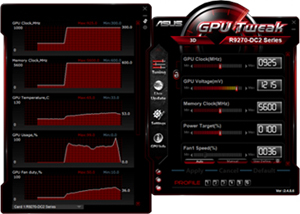 ASUS GPU Tweak Utility
Real-time graphics tuning and live streaming
Shows detailed specs and actual card status with GPU-Z
Sync GPU clocks and voltages for easier overclocking
Monitoring widget provides real-time detailed multi-parameter info
Automatically checks and updates drivers and BIOS versions
Stream on-screen action to the web in full HD, with just a click
Set your own headline for the streaming window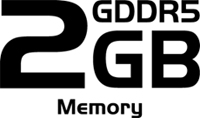 2GB GDDR5 Memory
On-board memory for the best gaming experience and the best resolution
Graphics GPU Features

Powered by AMD Radeon™ R9 270

AMD Eyefinity™ Technology
Extend the view across up to six displays to immerse yourself in gameplay and entertainment.
CrossFire X Support
Multi-GPU technology for extreme performance.

AMD HD3D
Immerse in stereoscopic 3D gaming and get up close and personal with your favorite stars while watching Blu-ray 3D. AMD HD3D is also designed for professionals who create complex visual effects and detailed data visualizations.
PCI Express 3.0
Delivers double the bandwidth per lane of PCIe 2.0 for faster GPU-CPU communication.
Microsoft DirectX 11.2
Brings new levels of visual realism to gaming on the PC and get top-notch performance.
I/O Ports Highlight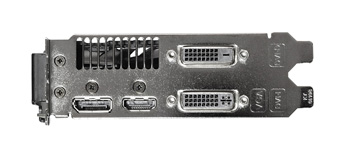 2 X Native DVI
1 X Native HDMI
1 X Native DisplayPort
What's in the Box